« Wedding DJ Pool Pro » IMMEDIATELY allows you to create MEMORABLE DJ SETS and get a constant word of mouth for new DJ BOOKINGS.
NEW
DEAL
OFFER
SALE
GET 30 DAYS FOR FREE
Download TODAY "Done For You" Songs & Playlists for
you next event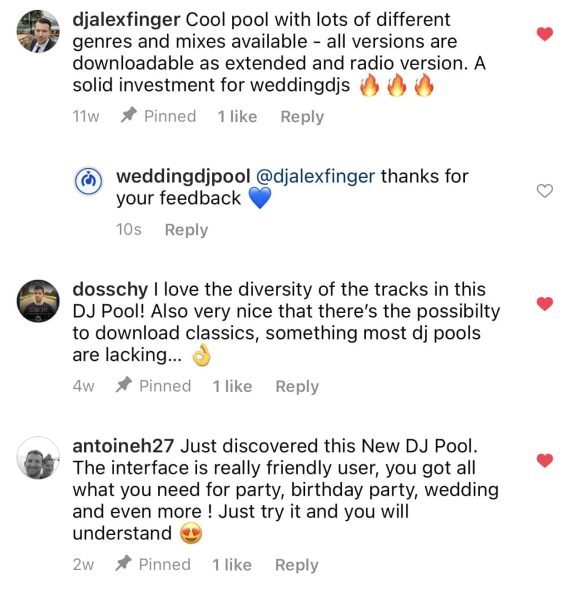 IMMEDIATE & UNLIMITED DJ MUSIC
Our library is focused on the top 1% Remixes, Classics and Hits tracks including Extended Versions. No more useless music.
All tracks have been analyzed and tagged for seamless library organization and management. All tracks contain cue points optimized for all leading DJ software, including: Serato, Traktor, and Rekordbox. No more messy library
HIGH-QUALITY FILES & PACKS
99.99% of 320kbps, all tracks in the DJ Pool are Wedding, Event, and Radio ready. You can choose to stream and download the music 1 by 1 or by .zip pack. No more time lost.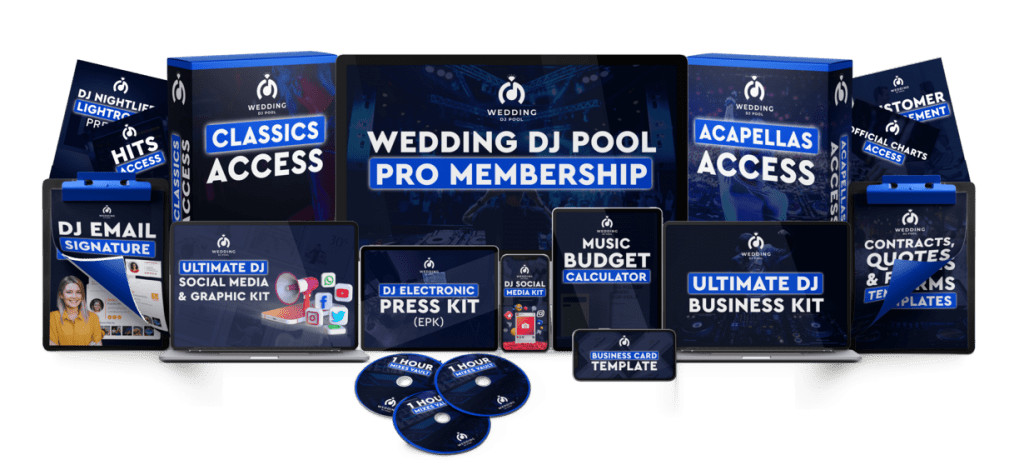 #1 Open Format Music Pool for Mobile DJs.
Finally get the DJ MUSIC LIBRARY of your Dreams!
ATTENTION!
THE INVITATION CODE EXPIRE SOON
Fill the form above, and double check your email address (IMPORTANT)
Please note your LOGIN name & PASSWORD (necessary to login further)
Read the carefully our Terms & Conditions.
Click on Register.
Provide your credit card details on our payment provider page (mandatory).
Your subscription is ACTIVE immediately.
The download links appears, enjoy the platform 🙂
If you have any question, you can send us a mail : [email protected]
Our platform is not opened to the public. 
It's an "Invitation Only" platform reserved for Professional DJs.
If you received an INVITATION CODE for a special event, please paste it in the appropriate box.
Be careful, this INVITATION CODE is expiring, we cannot say when we will open the registrations again yet.
For legal reasons, you need to provide a credit card to access to the platform.
If you received a COUPON CODE with a TRIAL PERIOD, you won't be charged the full price until the end of the this trial period.
If for some reasons, you would like to interrupt the trial and stop any subscription, you can do it anytime from your "My account" interface. 
No questions asked.