If you've been seeking the best sources for free acapellas, you're in the right place. In this detailed list I will dive deeper into the world of free acapellas and explore the best sources to find them.
1. Acapella4U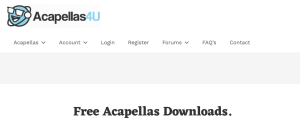 Acapella4U: A leading platform, Acapella4U boasts an expansive collection of acapellas spanning various genres. Its user-friendly interface ensures effortless navigation, complemented by an active artist community for networking and discussions.
If you are looking for a vast collection that spans across multiple genres with an engaged community, then Acapella4U is the one for you.
Pros:

Wide-ranging genre collection.
User-friendly interface.
Active artist community.
Regular updates.
Networking opportunities.

Cons:

Overwhelming choices for beginners.
Potential copyright issues.
Interface may seem dated.
Sign-up required for downloads.
Limited advanced tools.
2. Voclr.it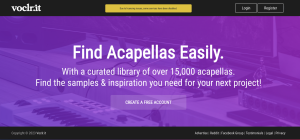 Voclr.it: More than just a repository, Voclr.it provides unique tools assisting artists in refining acapellas. With features like pitch and tempo adjustments, it stands out as an invaluable asset for music enthusiasts. A premium option further elevates the experience with advanced tools.
If you are in search of a platform that not only provides acapellas but also offers advanced refining tools like pitch and tempo adjustments, then Voclr.it is your best bet.
Pros:

Advanced refining tools.
Pitch and tempo adjustments.
Key information provided.
Premium features available.
Active community discussions.

Cons:

Limited free tools.
Some tracks restricted to premium.
Subscription cost.
Complex for novice users.
Reliant on user uploads for content.
3. Looperman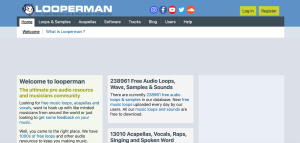 Looperman: A comprehensive hub for music creators, Looperman offers acapellas, loops, and samples. It fosters an active community, encouraging collaborations and the sharing of fresh, user-generated content.
If a comprehensive platform offering a mix of acapellas, loops, and samples is what you desire, then Looperman should be your go-to destination.
Pros:

Offers loops and samples.
User-generated content.
Active collaborative community.
Regular content updates.
Broad genre representation.

Cons:

Varied quality of uploads.
Overwhelming for beginners.
Limited categorization.
Requires account for downloads.
Some outdated tracks.
4. Free Vocals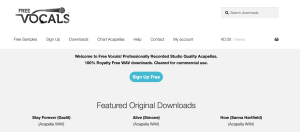 Free Vocals: Setting itself apart, Free Vocals offers royalty-free, original recordings from professional singers. Their diverse collection ensures authenticity, making it ideal for unique music productions. An active community section further boosts engagement and collaborations.
If the allure of original, royalty-free recordings from professional artists is what you seek, then Free Vocals is undeniably for you.
Pros:

Royalty-free tracks.
Original recordings.
Professional artist vocals.
Diverse collection.
Community engagement.

Cons:

Some tracks behind paywall.
Limited genres.
Requires sign-up.
Can be overwhelming to navigate.
Limited tools for refinement.
5. Acapella Extractor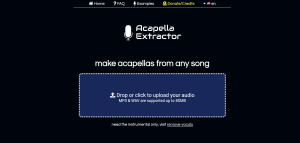 Acapella Extractor: Revolutionizing the acapella sourcing process, Acapella Extractor allows users to upload any track and extract vocals from it. By leveraging advanced algorithms, it ensures precision in extraction. The platform's simplicity and efficiency make it an essential tool for innovative music creators.
If the flexibility to transform any song into an acapella through advanced algorithms is your priority, then Acapella Extractor is the perfect fit for you.
Pros:

Instant acapella extraction.
No reliance on pre-existing library.
Advanced algorithms.
Simple, user-friendly process.
Supports broad file formats.

Cons:

Dependent on input song quality.
No built-in community.
Limited to extraction only.
Occasional extraction errors.
No categorization or organization.
Essential Tips for Utilizing Free Acapellas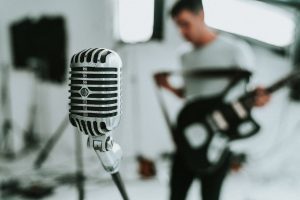 Respect Copyrights
While many acapellas are available for free, it's crucial to ensure you have the right to use them in commercial projects. Always read the terms and conditions and, if in doubt, seek permission.
Quality Matters
Always opt for high-quality acapella tracks. Low-quality vocals can compromise the overall sound of your project, making it less appealing to the audience.
Collaboration is Key
Engage with online communities around these platforms. Collaboration can lead to unique tracks that stand out in a crowded market.
Why Acapellas are Crucial for Music Production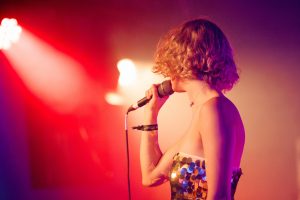 Acapellas allow for:
Creativity: Producers can play around with vocals without being confined to the original track.
Flexibility: Artists can merge vocals from one song with the instrumentals of another.
Originality: DJs can create exclusive remixes, ensuring their sets stand out.
Wrapping Up
Harnessing the power of acapellas can elevate your music to new heights. By sourcing high-quality vocals from reliable platforms and blending them creatively, artists can craft unique and memorable tracks. Always remember to respect copyrights and engage with the community for the best results. Dive into the world of acapellas and let your creativity run wild!
Ready to amplify your mixes with the finest acapellas? Join Wedding DJ Pool now and unlock an exclusive collection tailored for perfection. Don't just play music, make every moment resonate.