Turntables are at the heart of DJing. Whether you're an old-school enthusiast or a budding DJ, choosing the right turntable can significantly elevate your mixing skills and sound output. In this comprehensive guide, we delve deep into the best DJ turntables available in the market today.
A Brief History of DJ Turntables
Turntables have been the epicenter of DJ culture for decades. From the first phonograph, developed by Thomas Edison, to modern USB-enabled devices, turntables have continuously evolved to meet the changing demands of DJs worldwide.
Top 5 DJ Turntables in 2023
1. Technics SL-1210MK7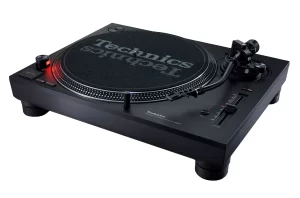 A revival of the legendary Technics series, the SL-1210MK7 boasts high precision and robust build quality. With its new coreless direct drive motor, rotational stability is unmatched, ensuring a seamless mixing experience.
Features:
Drive Type: Direct Drive
Torque: Up to 1.8 kg/cm
Pitch Control: ±8%, ±16%
Connectivity: Detachable RCA cables
Pros:
Revival of a legendary series ensures top-notch quality.
Coreless direct drive motor offers unparalleled rotational stability.
Robust build, designed to last.
Detachable RCA cables for convenient setup.
Optimal torque for various DJing needs.
Cons:
Higher price point than some competitors.
Traditional design might not appeal to everyone.
Pitch control range limited to ±8%, ±16%.
Lacks modern features like USB connectivity.
May have a learning curve for beginners.
2. Pioneer PLX-1000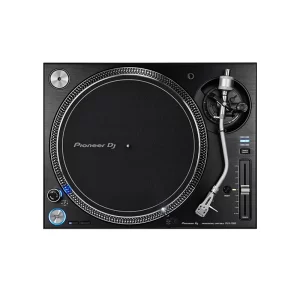 Pioneer's foray into professional-grade turntables has been nothing short of impressive. The PLX-1000 is a testament to that, offering exceptional vibration damping and a high-torque mechanism suitable for the most demanding DJ performances.
Features:
Drive Type: Quartz-driven Direct Drive
Torque: Up to 4.5 kg/cm
Pitch Control: ±8%, ±16%, ±50%
Connectivity: Gold-plated RCA jacks
Pros:
Exceptional vibration damping for clear sound.
High-torque mechanism suitable for intensive DJ performances.
Gold-plated RCA jacks ensure high-quality sound transmission.
Renowned brand reputation in the DJ industry.
User-friendly interface suitable for pros and beginners.
Cons:
Pitch control doesn't exceed ±50%.
Some might find it heavy and less portable.
External grounding might be required.
No USB connectivity.
Premium price tag.
3. Audio-Technica AT-LP120XUSB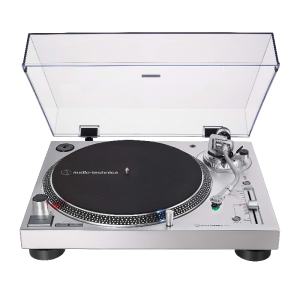 For the modern DJ looking to blend analog with digital, the AT-LP120XUSB is an ideal choice. With USB connectivity, DJs can easily digitize their vinyl collection, making it a versatile tool for various applications.
Features:
Drive Type: Direct Drive
Torque: Up to 1.6 kg/cm
Pitch Control: ±8%, ±16%, ±24%
Connectivity: USB & RCA out
Pros:
USB connectivity enables easy digitization of vinyl records.
Versatile with a range of pitch control options.
Affordable for the features offered.
High fidelity sound reproduction.
Built-in phono preamp for flexible setups.
Cons:
Torque might be insufficient for aggressive scratching.
Plastic build components can feel less premium.
USB conversion software not always intuitive.
Direct Drive may not be as sturdy as quartz-driven counterparts.
Pitch fader may not be as smooth as competitors.
4. Denon VL12 Prime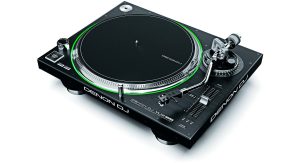 The Denon VL12 Prime stands out with its unique LED platter light and optimized acoustic isolation. With the highest torque in its class, it ensures swift cueing and accurate mixing.
Features:
Drive Type: Isolated Direct Drive
Torque: Up to 5 kg/cm
Pitch Control: ±8%, ±16%, ±50%
Connectivity: RCA
Pros:
Unique LED platter light enhances aesthetic appeal.
Offers the highest torque in its class.
Optimized acoustic isolation for purer sound.
Easy to read pitch scales.
Designed with noise isolation in mind.
Cons:
Heavy build reduces portability.
Premium pricing.
Limited to RCA connectivity.
Might be over-engineered for casual DJs.
Some users may find LED light distracting.
5. Reloop RP-8000 MK2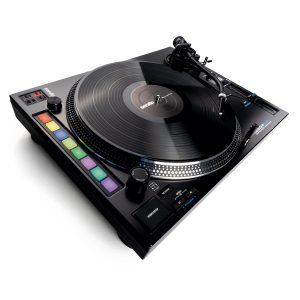 For the hybrid DJ who incorporates turntablism with MIDI control, the RP-8000 MK2 is unrivaled. Its integrated pad section is Serato compatible, making it a potent combination of tradition and technology.
Features:
Drive Type: Quartz-driven Direct Drive
Torque: Up to 4.5 kg/cm
Pitch Control: ±8%, ±16%, ±50%
Connectivity: Phono & Line out, USB hub
Pros:
Integrated pad section is Serato compatible.
Combines traditional DJing with modern MIDI control.
High torque comparable to top brands.
USB hub for multiple device connections.
Hybrid turntable suitable for a variety of DJ styles.
Cons:
Design might be overwhelming for pure vinyl enthusiasts.
Pitch control can be sensitive.
Requires regular firmware updates.
MIDI functions might not be useful for all DJs.
Premium pricing for the hybrid features.
Key Factors to Consider When Choosing a DJ Turntable
Drive Type: Direct drives offer quicker start-up times and better torque, essential for scratching and quick cueing.
Torque: A higher torque provides better control, especially for scratching.
Pitch Control Range: Wider range offers more flexibility when beat matching.
Connectivity Options: Modern features like USB can be beneficial for DJs who want to integrate their setups with digital platforms.
In Conclusion
Choosing the right DJ turntable can profoundly influence your mixing prowess. From iconic brands like Technics and Pioneer to innovative contenders like Reloop, the market is teeming with options. Understand your needs, factor in the key considerations, and pick the best DJ turntable that resonates with your DJing aspirations.
Get the best DJ songs right now by joining Wedding DJ Pool. Click below to get instant access to unlimited music downloads.