As recording enthusiasts and music professionals, we understand the significance of top-notch sound quality brought by the best DJ speakers. DJ speakers, an indispensable component of any sound recording setup, provide us with this immersive audio experience. In this comprehensive guide, we delve into the best DJ speakers that have captured the hearts of musicians, producers, and sound engineers worldwide.
1. Yamaha HS8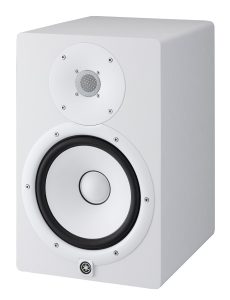 As one of the most revered names in the audio industry, Yamaha presents the HS8, embodying a perfect blend of power and precision.
Equipped with an 8″ cone woofer and a 1″ dome tweeter, the HS8 delivers a wide frequency range of 38Hz to 30kHz. This means you'll hear the deepest bass and the highest trebles in your mix. Its 120W bi-amplified power system provides an equally distributed driving force to the woofer and tweeter, ensuring optimal performance.
The HS8 features room control and high trim response controls, providing flexibility in different acoustic environments.
Pros
Wide frequency range for detailed sound reproduction.
120W bi-amplified power for optimal performance.
Room control for flexibility in different environments.
Cons
Can be considered large for some studio spaces.
High frequencies can be slightly harsh.
Lack of a digital input.
2. Adam Audio A7X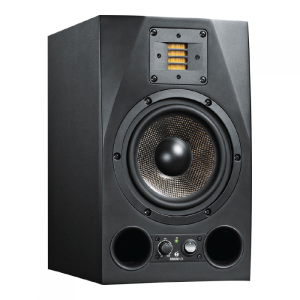 The Adam Audio A7X strikes a harmonious balance between compact size and superior sound quality.
The A7X is notable for its X-ART tweeter, which provides extended frequency response up to 50kHz, giving you detailed insights into your mixes. It comes with a 7″ midwoofer and a 2″ tweeter, offering well-balanced and dynamic audio reproduction.
With a 150W PWM amplifier for the woofer and a 50W Class A/B amplifier for the tweeter, the A7X guarantees efficient performance.
Pros
Extended frequency response due to X-ART tweeter.
Balanced and dynamic audio reproduction.
Efficient performance due to separate amplifiers for woofer and tweeter.
Cons
The high price point might deter budget-conscious buyers.
Bass response may be limited for some genres.
No room correction features.
3. KRK Rokit 8 G4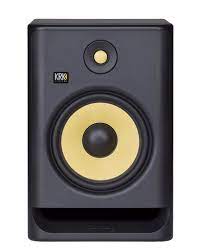 With the Rokit 8 G4, KRK offers a speaker that packs a punch with its powerful sound and innovative features.
The 8″ Kevlar Aramid Fibre woofer and 1″ Kevlar Aramid Fibre tweeter ensure clear, detailed sound across a frequency range of 36Hz – 40kHz. Its built-in efficient Class D power amp reduces operating temperatures while maintaining audio integrity. KRK's DSP-driven Room Tuning feature helps correct unwanted room-induced sound anomalies.
Pros
Clear, detailed sound across a broad frequency range.
Efficient performance due to Class D power amp.
DSP-driven Room Tuning feature for sound correction.
Cons
The speaker's size might be too large for some studio environments.
Lack of a midrange driver.
Bass can be slightly exaggerated.
4. Neumann KH 120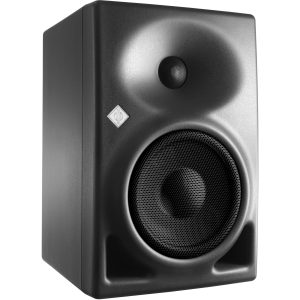 The Neumann KH 120 is an exceptional DJ speaker revered for its precise sound reproduction and compact design.
The KH 120 features a 5.25″ long-throw woofer and a 1″ titanium fabric dome tweeter, promising an extended frequency response from 52Hz to 21kHz. The bi-amplified design, with 50W for the woofer and 50W for the tweeter, ensures powerful output and optimal performance.
An elliptical Mathematically Modeled Dispersion waveguide offers a wide sweet spot, granting you flexibility in the studio.
Pros
Precise sound reproduction and powerful output.
Wide sweet spot due to elliptical waveguide.
Compact design for small studio spaces.
Cons
Limited bass response due to smaller woofer size.
High price tag.
Lacks digital inputs.
5. Genelec M040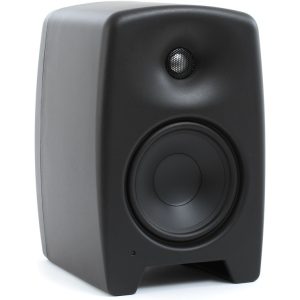 Genelec's commitment to top-tier sound quality is evident in the M040 Active 2-Way Monitor, which combines eco-friendly construction with unparalleled audio performance.
The M040 comes with a 6.5″ woofer and a 1″ metal dome tweeter, offering a frequency response from 48Hz to 20kHz. With bi-amplified power – 80W for the woofer and 50W for the tweeter, the Genelec M040 ensures powerful, distortion-free sound.
Its innovative Directivity Control Waveguide (DCW) technology helps in precise sound reproduction, making it an ideal choice for various acoustic environments.
Pros
Wide frequency response for detailed sound.
Eco-friendly construction.
Directivity Control Waveguide technology for precise sound.
Cons
The higher price may not suit all budgets.
Bass might be lacking for some genres.
Lacks a room correction feature.
Conclusion
DJ speakers are crucial in the world of music production, delivering accurate and high-quality sound. Whether you're a seasoned professional or just starting, the Yamaha HS8, Adam Audio A7X, KRK Rokit 8 G4, Neaumann KH 120, and Genelec M040 are incredible options to enhance your recording experience. Explore these models and choose the one that best meets your audio demands.
Get the best DJ songs right now by joining Wedding DJ Pool. Click below to get instant access to unlimited music downloads.