Enter the era of digital audio, and the role of the DJ has never been more pivotal. Central to this evolution is the DJ equipment, which has seen transformative advancements in the last few decades. In this guide, we delve into the best DJ equipment, from turntables to software, ensuring you have an in-depth understanding of what you need to succeed as a DJ.
DJ Controllers: The Backbone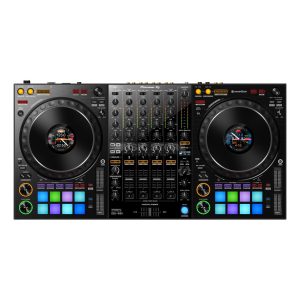 The DJ controller serves as the nexus between the DJ and the digital music files. Built for versatility, these controllers pack a myriad of functionalities into compact designs.
Features to Look Out For:
Jog Wheels: Essential for cueing, scratching, and track navigation.
Performance Pads: Deploy samples, loops, and effects with these dynamic pads.
Mixer Section: Balance multiple tracks, tweak EQs, and control volumes.
I/O Ports: Essential for connecting external devices and ensuring seamless integration.
DJ Controller Recommendation:
The Pioneer DJ DDJ-1000 stands out as a comprehensive solution for modern DJs. This 4-channel professional controller is designed for dedicated use with Pioneer's rekordbox dj software.
Features:
Customizable Color LCD On-Jog Display: Provides a real-time reference for waveforms, BPM, playback time, and more.
14 Beat FX: Enhance mixes with the classic onboard effects.
Improved Magvel Fader: Durability and responsiveness taken a notch higher.
Pros:
Customizable LCD On-Jog Display for real-time feedback.
Variety of Beat FX enhances mixes.
Improved Magvel Fader boosts responsiveness.
Four-channel design for versatile mixing.
Designed for optimal integration with rekordbox dj software.
Cons:
Slightly heavier than some competitors.
Dedicated to rekordbox may limit users of other software.
Higher price point than beginner controllers.
Larger size may be cumbersome for mobile DJs.
Requires external power source.
Turntables: Merging Tradition with Technology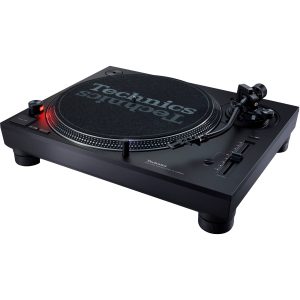 Turntables might feel vintage, but they're very much a part of the modern DJ setup. They offer an authentic tactile experience and are often paired with DVS (Digital Vinyl System) for a hybrid analog-digital setup.
The Nuances of Turntables:
Direct Drive vs. Belt Drive: Direct drives offer quicker start-up times and are preferred for scratching, while belt drives absorb motor noise, providing cleaner playback.
Pitch Control: Adjust the playback speed to match the BPM of tracks.
USB Connectivity: Facilitates direct recording to digital formats.
DJ Turntable Recommendation:
The Technics SL-1200MK7, a direct-drive turntable, has earned its place in the DJ world for its flawless performance and reliability.
Features:
Coreless Direct Drive Motor: Eliminates cogging, ensuring smooth rotation.
Pitch Control Range: ±8% and ±16% for precise BPM matching.
Detachable PHONO and Power Cables: Customizable for various performance settings.
Pros:
Reliable coreless direct drive motor.
Accurate pitch control for BPM matching.
Detachable cables for easy customization.
Legendary durability and longevity.
Authentic analog experience with digital capabilities.
Cons:
Premium pricing.
Might be overkill for hobbyists.
Heavier than some other turntables.
Needs regular maintenance for optimal performance.
Limited modern features compared to hybrid turntables.
DJ Software: The Digital Workbench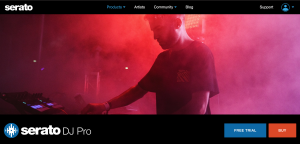 Software applications provide the interface to manage and manipulate your digital music library. Popular choices include Serato DJ, Traktor Pro, and Virtual DJ, each with its own set of unique features.
They offer features like:
Waveform Visualization: Get a visual representation of tracks for precise cueing.
Hot Cues: Instantly jump to parts of a track.
Sync: Automatically match the BPM of two tracks.
DJ Software Recommendation:
Serato DJ Pro is a leading choice for many professional DJs due to its intuitive interface and powerful features. It's renowned for its reliability and seamless integration with various hardware.
Features:
Practice Mode: Mix two tracks without hardware connected.
High-Resolution Display Support: Crystal clear waveforms and video mixing.
Expansion Packs: Add-on FX packs, Serato video, and more.
Pros:
User-friendly interface suitable for beginners and pros.
High-resolution display support enhances clarity.
Reliable performance with minimal software crashes.
Extensive expansion packs available.
Regular software updates and feature additions.
Cons:
License can be costly.
Some features hidden behind expansion packs.
Requires compatible hardware for full functionality.
Steeper learning curve than some competitors.
Occasional compatibility issues with macOS updates.
DJ Mixers: The Sound Sculptors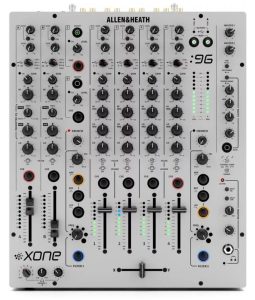 The DJ mixer is paramount in crafting your sound signature. From basic two-channel mixers to elaborate multi-channel setups, they shape the music's flow and tone.
Essential Mixer Features:
EQ Knobs: Refine the lows, mids, and highs of tracks.
Crossfader: Seamlessly transition between tracks.
Effects Module: Introduce reverbs, delays, and other sound manipulations.
DJ Mixer Recommendation:
The Allen & Heath Xone:96 embodies everything desired in a mixer – analog warmth, digital connectivity, and an intuitive layout.
Features:
Dual 32-bit 24 Channel Soundcard: Delivers studio-quality sound.
VCF Filters: Including HPF, BPF, LPF, resonance control, and frequency sweep.
6+2 Channel Layout: Ample room for mixing, routing, and incorporating external effects.
Pros:
Dual 32-bit 24 Channel Soundcard for studio-quality sound.
Variety of VCF filters for enhanced mixing.
6+2 channel layout provides extensive mixing options.
Durable build quality and long-lasting performance.
Multiple I/O ports for versatile connections.
Cons:
High-end price tag.
Size may be too large for compact setups.
Complexity can be daunting for beginners.
Weight makes it less ideal for mobile setups.
Analog focus may deter DJs seeking integrated digital features.
DJ Headphones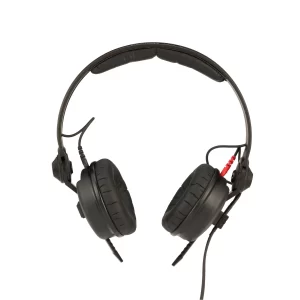 For precise monitoring and cueing.
DJ Headphones Recommendation:
For headphones, the Sennheiser HD 25 stands out for its lightweight design, excellent noise isolation, and robust build quality, making them ideal for DJing.
Features:
Split Headband: Ensures a secure fit.
Rotatable Capsule: Allows for single-ear listening.
High Sensitivity: Perfect for loud environments.
Pros:
Lightweight design for extended wear.
Excellent noise isolation for loud environments.
Durable and robust construction.
Split headband ensures a secure fit.
Rotatable capsule for single-ear monitoring.
Cons:
On the higher end of the price spectrum for DJ headphones.
Non-detachable cable.
Some users might find clamping force too tight.
Bass can be overpowering in some genres.
Aesthetic may not appeal to all users.
DJ Stands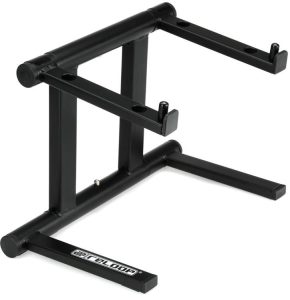 Elevate your equipment for easy access.
DJ Stand Recommendation:
The Reloop Modular Stand is designed for DJs who seek a flexible yet sturdy stand for their controller, laptop, or other devices. Its design and build quality promise stability and longevity.
Features:
Adjustable Angle: Offers the best view and access to your devices.
Anti-Slip Padding: Ensures your gear remains in place, even during intense performances.
Sturdy Metal Construction: Provides durability and stability.
Quick and Easy Assembly: Designed for mobile DJs who are always on the move.
Pros:
Adjustable angle for ergonomic access.
Sturdy metal construction promises longevity.
Anti-slip padding prevents gear movement.
Suitable for various equipment sizes.
Quick and easy assembly for on-the-go DJs.
Cons:
Bulky when fully assembled.
Single tier might limit DJs with multiple devices.
Lack of cable management features.
Weight can be a concern for mobile setups.
Metal finish can be susceptible to scratches.
Protective Cases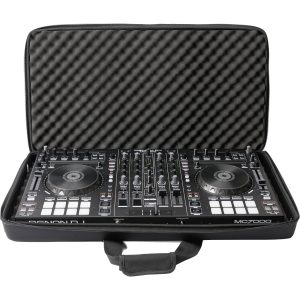 Safeguard your gear during transport.
Protective Case Recommendation:
The Magma CTRL Case offers premium protection for a wide range of DJ controllers. Crafted with high-quality materials, this case is tailored to safeguard your equipment from external threats.
Features:
Lightweight Durashock Molded EVA Foam: Offers a hard exterior but soft interior, protecting against shocks and bumps.
Water-Resistant Polyester Exterior: Shields your gear from the elements.
Padded Carry Handles and Detachable Shoulder Strap: For ease of transport.
Customizable Interior: Adaptable foam inserts ensure a snug fit for various equipment models.
Pros:
Durable Durashock molded EVA foam protection.
Water-resistant exterior guards against spills.
Padded handles and shoulder strap for easy transport.
Customizable interior fits multiple device models.
Lightweight design is ideal for traveling.
Cons:
Might not withstand heavy impacts as hard cases do.
Zippers can wear out with frequent use.
Foam inserts might degrade over time.
Not suitable for very large DJ controllers.
External pockets are minimal for additional accessories.
In Conclusion
The world of DJing has expanded exponentially, with equipment that caters to every nuance of this art form. Understanding the tools at your disposal, from controllers to mixers, ensures you're well-equipped to orchestrate unparalleled auditory experiences. As technology continues to innovate, so does the scope of possibilities in the DJ realm, and staying abreast of these advancements is crucial for every aspiring and professional DJ. Dive deep, experiment, and let the music guide your journey.
Get the best DJ songs right now by joining Wedding DJ Pool. Click below to get instant access to unlimited music downloads.