Are you an aspiring DJ ready to take the music scene by storm? We understand that embarking on this exciting journey demands top-notch equipment that makes learning a breeze. That's why we've curated a list of the best DJ controllers for beginners available in the market today. Let's delve into these DJ controllers' standout features, affordability, and compatibility, to help you navigate the landscape of beginner DJ equipment.
1. Pioneer DJ DDJ-200: Top Pick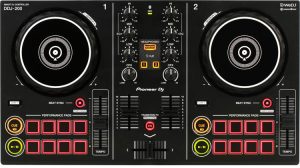 The Pioneer DJ DDJ-200 leads the pack of beginner DJ controllers due to its remarkable features and competitive price point. This controller showcases seamless compatibility with smartphones and DJ apps like WeDJ and rekordbox. Its beginner-friendly interface ensures a smooth DJing experience, making it a compelling choice for novices.
Pros:
Broad device and software compatibility.
User-friendly layout for beginners.
Affordable price point.
Compact and portable.
Free access to multiple DJ apps.
Cons:
No in-built sound card.
Limited built-in effects.
Lacks jog wheel display.
Requires external device to operate.
No direct PC/Mac connection.
2. Numark Party Mix: Runner-Up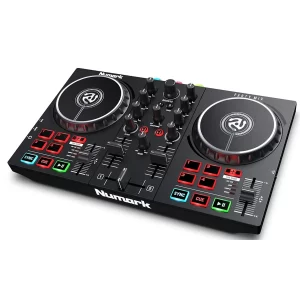 The Numark Party Mix is another fantastic pick for new DJs. This DJ controller packs professional features into an easy-to-use and cost-effective package. The built-in light show is a unique feature that can amplify the fun at any party while offering valuable experience with event DJing.
Pros:
Professional features in a beginner-friendly package.
Built-in light show for entertainment.
Included software: Serato DJ Lite.
Lightweight and compact.
Integrated sound card.
Cons:
Limited controls for advanced DJing.
Lacks multiple USB ports.
Light show may not be suitable for all settings.
Lacks standalone mixer functionality.
No option to upgrade software for free.
3. Hercules DJControl Inpulse 200: Best Budget Pick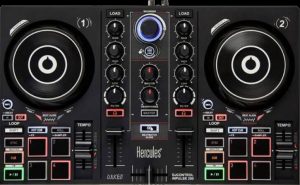 For aspiring DJs on a budget, the Hercules DJControl Inpulse 200 provides exceptional value. This compact controller offers comprehensive DJ software and a rich set of tutorial features that set the stage for an effortless learning process.
Pros:
Value for money.
Comprehensive tutorial features.
Integrated DJUCED software.
Intelligent Music Assistant for song suggestions.
Compact and lightweight.
Cons:
Limited professional features.
No dedicated filter knobs.
Lacks built-in sound effects.
Small jog wheels.
No booth output.
4. Roland DJ-202 DJ Controller: Premium Choice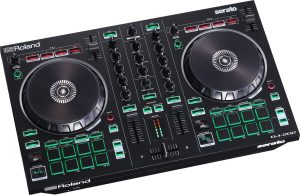 For those willing to invest in a premium beginner DJ controller, the Roland DJ-202 is the perfect match. It combines powerful features like a built-in drum machine and sequencer, making it stand out from its competitors.
Pros:
Built-in Roland TR drum machine and sequencer.
Professional features in a compact size.
Includes Serato DJ Lite.
High-quality build and design.
Multiple outputs for flexibility.
Cons:
Higher price point.
Might be complex for absolute beginners.
Lacks standalone mixer functionality.
Small pitch faders.
Limited performance pads.
5. Pioneer DJ DDJ-400: The Perfect Learning Tool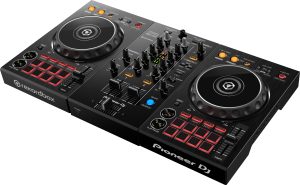 If you're looking for a beginner DJ controller that offers an authentic club-style layout, the Pioneer DJ DDJ-400 is an excellent addition to your list. This model draws heavily from Pioneer's professional controllers for rekordbox and comes bundled with the software, offering a comfortable transition to club-standard gear as you progress.
Pros:
Professional layout similar to club-standard gear.
Bundled with rekordbox DJ software.
Comprehensive tutorial features.
High-quality sound card.
USB powered for portability.
Cons:
Limited jog wheel display.
Lacks multiple USB ports.
No standalone mixer functionality.
Only compatible with rekordbox DJ.
Larger size can impact portability.
Conclusion
In the dynamic world of DJing, the right DJ controller can accelerate your journey from a novice to a professional. Pioneer DJ DDJ-200, Numark Party Mix, Hercules DJControl Inpulse 200, Roland DJ-202, and Pioneer DJ DDJ-400 all offer a fantastic blend of affordability, ease-of-use, and advanced features, setting you up for a successful start to your DJing career.
Get the best DJ songs to play with your DJ controllers right now by joining Wedding DJ Pool. Click below to get instant access to unlimited music downloads.