Music binds us together, and in the world of DJing, a great DJ controller is your strongest ally. From house parties to professional stages, your controller can be the difference between a stellar performance and a fumbling gig. So, we present a comprehensive guide to the best DJ controllers in 2023.
Pioneer DJ DDJ-1000: Unmatched Control and Clarity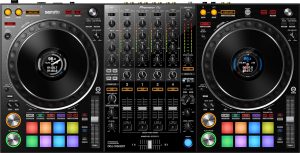 Pioneer has been a game-changer in the DJing world, and the DDJ-1000 is no exception. With a club-style interface and high-definition LCD screens on each jog wheel, it offers an unprecedented level of control and clarity. The Pioneer DJ DDJ-1000 is perfect for professional DJs and also for those looking to hone their skills with a versatile and comprehensive controller.
Key Features of Pioneer DJ DDJ-1000
Four channels with individual FX controls
Full-size jog wheels
High-resolution LCD screens
14 Beat FX
Durable and robust build
Pros:
Club-style interface provides a familiar setup.
LCD screens on jog wheels enable precision mixing.
4-channel mixer allows for versatile performances.
Robust build ensures durability.
14 Beat FX enhances creative possibilities.
Cons:
High price may not suit all budgets.
Might be too complex for beginners.
Requires a laptop to function.
Heavier than some other models.
Limited to Rekordbox DJ software.
Numark Mixtrack Pro 3: Best for Beginners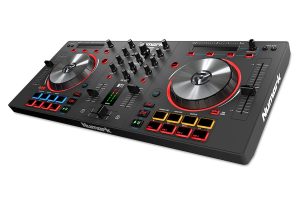 The Numark Mixtrack Pro 3 is a fantastic starting point for aspiring DJs. It offers a comprehensive range of features that provide a smooth transition from amateur to professional DJing. The Mixtrack Pro 3 is excellent for beginners looking to learn the ropes without overwhelming themselves with overly complicated features.
Key Features of Numark Mixtrack Pro 3
Dual 5-inch high-resolution metal jog wheels
Dedicated filter knobs for each channel
16 performance pads for added control
Built-in sound card
Pros:
Affordable price makes it accessible for beginners.
Easy-to-use interface simplifies the learning curve.
Long pitch faders enable precise mixing.
Compact size offers good portability.
Includes Prime Loops remix toolkit.
Cons:
Lacks an in-built sound card.
Does not have standalone mixer capabilities.
Jog wheels might feel too light to some users.
Might lack advanced features for professional DJs.
Only two channels.
Roland DJ-202: The Best for Serato DJ Pro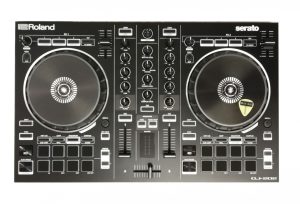 Roland's DJ-202 offers an intuitive layout and comprehensive controls that make it the ideal controller for Serato DJ Pro users. This controller is a great fit for users who want a seamless integration with Serato DJ Pro while also seeking the legendary Roland drum sounds.
Key Features of Roland DJ-202
Two-channel, four-deck controller
Built-in drum kits from Roland's classic TR-909, TR-808, TR-707, and TR-606
Eight sounds in each TR kit
16 sequencer steps for each TR kit
Pros:
Offers classic Roland drum sounds.
Compact size for easy portability.
Comes with Serato DJ Lite for beginners.
Has sequencer capabilities.
Affordable for its features.
Cons:
Built-in drum machine may complicate use for beginners.
Only two channels.
Requires a computer to function.
Light construction could compromise durability.
Lacks standalone mixer functionality.
Traktor Kontrol S4 MK3: Perfect for Traktor Software Users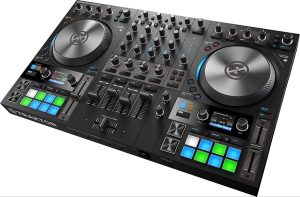 If you're a Traktor Pro user, then the Kontrol S4 MK3 is a controller that you'll love. This 4-channel DJ system integrates perfectly with Traktor software and features motorized jog wheels that offer a tactile vinyl-like feel. For DJs who prefer the Traktor software, the Kontrol S4 MK3 is a robust and innovative controller that will elevate your performances to a new level.
Key Features of Traktor Kontrol S4 MK3
Haptic drive motorized jog wheels
High-resolution color displays
New Mixer FX
Pros:
Haptic drive provides a vinyl-like feel.
High-resolution color displays for easy navigation.
Integrated with Traktor Pro 3 software.
4-channel mixer for versatile performances.
Motorized jog wheels offer accurate control.
Cons:
Premium price tag may deter beginners.
Might be overwhelming for beginners.
Limited to Traktor software.
Requires a laptop or computer to operate.
Larger size may hinder portability.
Denon DJ MC4000: A Robust Choice for Mobile DJs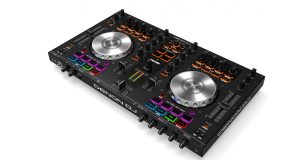 A renowned brand in the world of DJing, Denon's MC4000 stands as a robust and reliable choice, particularly favored by mobile DJs. This 2-channel controller packs in a range of features that guarantee high-quality performance and durability.
Key Features of Denon DJ MC4000
Premium 2-deck controller
Robust build with professional-grade steel construction
100mm pitch faders for accurate control
Balanced Booth Outputs
Two microphone inputs with dedicated EQ and Echo
Pros:
Solid construction guarantees durability.
Long pitch faders allow for accurate mixing.
Professional-grade features suitable for various gigs.
Compatible with most DJ software.
Excellent sound quality due to built-in 24-bit sound card.
Cons:
Lacks performance pads for cue points and samples.
Jog wheels might be small for some users.
Higher price point compared to other 2-deck controllers.
No standalone mixer capability.
May be complex for beginners due to professional features.
Concluding Thoughts: Choosing the Best DJ Controller
The world of DJ controllers is vast and varied, so we hope our guide helps you navigate towards your ideal fit. Whether you are a seasoned DJ or a budding talent, choosing the right controller can take your performance to the next level. Remember, the best DJ controller is not just the one with the most features but the one that resonates with your style and musical journey.
Get the best DJ songs right now by joining Wedding DJ Pool. Click below to get instant access to unlimited music downloads.